Don Gehrmann: Wisconsin Badger Mile star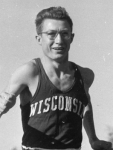 September 19, 2020
London 1948 Olympian won 39 consecutive major Mile races from 1949-52 and also four consecutive Wanamaker Mile titles (1949-52)
From USTFCCCA
Don Gehrmann of Wisconsin – the first athlete to ever win three NCAA titles in the Mile / 1500 meters – rarely had a particularly fast time.
"I only ran for place," Gehrmann recalled in 2012 to Gary D'Amato of the Milwaukee Journal Sentinel. "I never ran for time."
That place was almost always first, as Gehrmann was blessed with a kick that was once described as "burning high-octane gas while the others were powered with low-grade fuel."
Gehrmann entered the 1947 NCAA Outdoor Track & Field Championships as a 19-year-old freshman having defeated reigning NCAA champion Bob Rehberg of Illinois for the Big Nine (now Big Ten) Mile title. At the NCAA meet, Gehrmann stayed too far back to use his kick and finished fourth as Penn State's Gerry Karver won.
Gehrmann wouldn't lose a collegiate track race – at any distance – again.
Just a sophomore in 1948, Gehrmann won the NCAA 1500 and three weeks later added the U.S. title. He would eventually finish seventh in the London Olympics after falling on the last curve by stepping on the curb.
Gehrmann won the 1949 and 1950 NCAA Mile races by more than two seconds each time, but the Milwaukee native's dominance began to grow beyond collegiate competition. Indoors in 1949, he won the famous Wanamaker Mile at the Millrose Games, outkicking Wim Slijkhuis of the Netherlands, who won Olympic 1500 meter bronze in London.
That race was the first of four consecutive Wanamaker Mile titles as Gehrmann compiled a record of 39 consecutive Mile wins from 1949-52 that included his Mile personal record of 4:07.6 set at the 1951 Wanamaker Mile.
Gehrmann displayed incredible range, finishing runner-up twice in the NCAA Cross Country Championships in 1948 and 1949 (when the distance was 4 miles) and clocking an indoor collegiate record for the 880 (1:51.5 in 1949). His speed also made him a fixture on the Badgers' Mile relay team, even anchoring the 1950 squad to a conference win after winning the Mile and 880.