Duel of the Four-Minute Men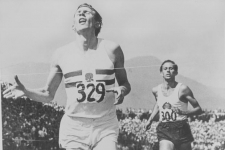 August 16, 1954
Bannister surges to victory in the heart-stirring Commonwealth Games Mile; first time two men sub-4 minutes in the same Mile race
By Paul O'Neil, Sports Illustrated
VANCOUVER, B.C. - The art of running the Mile consists, in essence, of reaching the threshold of unconsciousness at the instant of breasting the tape. It is not an easy process, even in a setpiece race against time, for the body rebels against such agonizing usage and must be disciplined by the spirit and the mind. It is infinitely more difficult in the amphitheater of competition, for then the runner must remain alert and cunning despite the fogs of fatigue and pain; his instinctive calculation of pace must encompass maneuver for position, and he must harbor strength to answer the moves of other men before expending his last reserves in the war of the home stretch.
Few events in sport offer so ultimate a test of human courage and human will and human ability to dare and endure for the simple sake of struggle, classically run, it is a heart-stirring, throat-tightening spectacle. But the world of track has never seen anything quite to equal the "Mile of the Century" which England's Dr. Roger Gilbert Bannister (the tall, pale-skinned explorer of human exhaustion who first crashed the 4 minute barrier) won here last Saturday from Australia's world record holder, John Michael Landy. It will probably not see the like again for a long, long time.
The duel of history's first 4 minute Milers, high point of the quadrennial British Empire & Commonwealth Games, was the most widely heralded and universally contemplated match footrace of all-time. Thirty-two thousand people jostled and screamed while it was run in Vancouver's new Empire Stadium, millions followed it avidly by television. It was also the most ferociously contested of all Mile events. Despite the necessity of jockeying on the early turns and of moving up in a field of six other good men, Bannister ran a blazing 3:58.8 and Landy 3:59.6. Thus for the first time two men broke 4 minutes in the same race. (Though far back in the ruck, five other runners finished under 4:08, Canada's Rich Ferguson in 4:04.6, Northern Ireland's Victor Milligan in 4:05, and both New Zealand's Murray Halberg and England's Ian Boyd in 4:07.2.)
Landy's world record of 3:58.0, set seven weeks ago in cool, still Nordic twilight at Turku, Finland, still stood when the tape was broken. But runners are truly tested only in races with their peers. When the 4 minute Mile was taken out of the laboratory and tried on the battlefield, Landy was beaten, man-to-man, and Roger Bannister reigned again as the giant of modern track.
Continue reading at: sportsillustrated.com