Engels, track stars revere Camel City Elite as premier indoor meet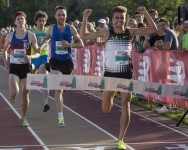 February 03, 2018
"There are marathons where you can win a ton of money, but this is the most I've ever seen for a Mile race."
By Patrick Ferlise, Winston-Salem Journal
When former Reagan track star Craig Engels learned he would race today in the Camel City Elite for the first time in his career, the pro runner couldn't wait to return to his hometown to perform in front of his family and friends.
But his trip back to Winston-Salem was about more than just a chance to see his old stomping grounds. Engels, who went on to run at both NC State and Ole Miss, saw it as a chance to compete against the top talent on the indoor track circuit.
"It's just crazy because this has turned out to be one of the biggest meets in the country," Engels said. "I was just saying earlier ... most professional athletes — whether NFL, NBA, anything — never get to perform in their hometown on the big stage. Ever."
The Camel City Elite, which features 800 meter, 3000 meter and Mile races for men and women, has become a premier destination for the sport's top world athletes since the annual event began at JDL Fast Track in 2013. In just a short amount of time, the indoor meet has gone from a simple idea to pinning Winston-Salem as a city name runners would come to know.
And Engels, who races for the Nike Oregon Project, is just one athlete who will face some of the toughest competition in the country. He'll go up against runners like Edward Cheserek, a 17-time NCAA champion and was just one title away from earning the honors of the most decorated college athlete in history.
Continue reading at: journalnow.com