Ex-Caseys standout Napolitano joins sub-4 minute Mile club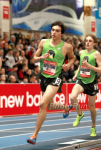 February 17, 2016
"The moment after was more special with family and Rob there. It was overwhelming... it's an honor to be part of the club."
By Tim Morris, The Hub
Nothing like putting the pressure on yourself. "When I woke up in the morning, I said, 'This is the day to do it,' " Columbia University runner Rob Napolitano said.
So he called his parents and high school coach Rob De- Filippis and told them to get up to the Ocean Breeze Athletic Complex in Staten Island that night, Feb. 12. Napolitano was going to run the Mile in under four minutes at the Fastrack National Invite.
The graduate of Red Bank Catholic High School knew he was ready. He had run 4:00.64 last year. On Jan. 30 of this year at a meet at Penn State University, he ran 1,200 meters in 2:54 on Columbia's Distance Medley Relay team and came back the next day with a 1:50 mark in the 800.
Continue reading at: hub.gmnews.com