Fifty Years in the Making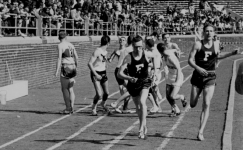 April 11, 2013
By Brett Hoover, Armory Track
In 1963 the Fordham University track squad went to the Penn Relays without expectations of bringing home a Championship of America wagon wheel trophy in the four-Mile relay.
But The Armory's own Dr. Norbert Sander was on that squad with Matt Cucciara, Joe McGovern and Tom Kenney and the Rams didn't just bring home the hardware, they shattered the meet record by 29 seconds, becoming the first team to break 17 minutes (16:42.7).
"What I remember is we went from a position before the race of having very little expectation to during the race having an incredible amazement that we were in the race," Sander recalled. "Afterward our emotions went to utter non-belief that we won. After I ran my leg I knew I had done something beyond what I had ever done before. I remember when I handed off to our third leg, Joe McGovern, that I had confidence because Joe and Tom Kenney were our two best legs.
Continue reading at: armorytrack.com