Filip Ingebrigtsen's Top Tips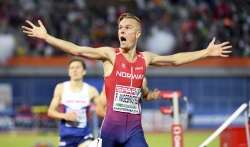 January 04, 2018
I am lucky in that I have my brother, Henrik [2012 European 1500m champion] and now my younger brother, Jakob [the youngest ever sub-4 minute miler]. We are good friends so it is nice to travel with someone close to you.
From SPIKES
Norway's Filip Ingebrigtsen comes from a family of super-Milers. The 1500 meter bronze medalist from London 2017 World Championships and reigning European champion shares some of his best pieces of advice.
Championship Tip
For me, it is all about finding that feeling of wellness or happiness.
It is important to enjoy the whole atmosphere of the championships, not just let the importance of the championships take over. Any athlete needs to believe in their training and realize you have done all you can to this point.
Psychological Tip
Running is important, but it is always pays to have some perspective and realize there are more important things in life – like family. If I have a bad day in training, I try to remember this.
Tactical Tip
After I won the 2016 European 1500m title in Amsterdam last year, many people were saying I ran the perfect tactical race. Then the next month after I was disqualified in Rio, people said I ran the worst tactical race and that I lost my head.
In 2016 I didn't have a lot of world class level experience, but I learned a lot that year, particularly from my Rio race. There I took a number of risks by running on the inside the whole way and what the race taught me was to run a little further on the outside to eliminate the risk of being boxed.
Continue reading at: spikes.iaaf.org