Former Gopher Heather Kampf has life on the run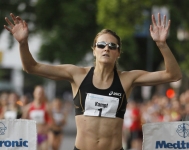 April 02, 2015
Reigning Bring Back the Mile Grand Prix Tour champion: "I always had this 'sky's the limit' mentality."
By MacKenzie Lobby Havey, Special for the Star Tribune
When you plug the name "Heather Dorniden" into a search engine, you're flooded with results about courage and determination. The 28-year-old runner, now Heather Kampf, is the most-decorated runner to emerge from the University of Minnesota women's track & field program and she has since won two national championships and made a World Championship team. Still, it is a 2008 race and the YouTube video that documents it that has preceded her and kept people buzzing (http://tinyurl.com/o4wd8zf).
The race happened at the Big Ten Indoor Championships held at the university's fieldhouse her junior year. The gun fired, and four runners including Kampf took off for the three-lap, 600 meter race. Kampf ran comfortably in the second position before making a move to the inside lane with 200 meters to go.
Without warning, her feet got tangled with another runner, sending her into a face-first dive. Flattened out, she rose in a split second and began chasing her competitors, who were well into completing the final lap. Loping down the backstretch, Kampf caught third place, then second, and at the line, clips first to win the heat. The announcers and crowd behind them are thrown into a roaring frenzy.
Continue reading at: www.startribune.com