Four past champions return to USATF 1 Mile Road Championships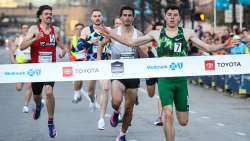 April 11, 2023
Grand Blue Mile hosts national title tilt for seventh straight year; $25,000 prize purse with $5000 for each national champion
From Drake Relays
DES MOINES, Iowa -- The USA Track & Field 1 Mile Road Championships, hosted as part of the Grand Blue Mile presented by Wellmark Blue Cross and Blue Shield, will bring the nation's top Milers to the streets of Des Moines on Tuesday evening, April 25 to vie for the $25,000 prize purse with $5000 for each U.S. champion and the pursuit of a newly created World Record in the road Mile.

The national championship event is set for 7:15pm following the recreational and competitive Grand Blue Mile races.
On November 30, 2022, World Athletics, the international governing body of the sports of track & field and road running, announced that an official world record for the road Mile would be introduced beginning on January 1, 2023. The flat and fast Grand Blue Mile course meets all requirements for World Record ratification, quickly distinguishing the 2023 USATF 1 Mile Road Championships as a destination for American athletes aspiring to make history. For immediate ratification, a World Record will require a performance of at least 3:50.00 for the men and 4:19.00 for the women. If the listed standards are not met by September 1, the fastest recorded, record-eligible performances will be recognized as the World Records.
After thousands of recreational and competitive runners have navigated the Mile course through downtown Des Moines, more than 40 elite runners will compete for the title of USA Road 1 Mile Champion. Those runners include four past USA Mile Road Champions in Sam Prakel (2020), Katie Follett (2017), Nikki Hiltz (2019) and the defending men's champion Vincent Ciattei.

Ciattei won last year's race in 4:03 but owns a personal record of 3:51 and was an NCAA runner-up in the Mile and 1500m as a collegian at Virginia Tech.

Prakel claimed the title in 2020 in a COVID pandemic-altered race that finished in Drake Stadium. He aims to add a third national title to his resume this year, as he recently claimed USATF Indoor titles in the 1500m and 3000m. The men's field also includes faces familiar to the Grand Blue Mile in Shane Streich, who finished third last year, and Abe Alvarado, who was fourth in 2021.

Nikki Hiltz returns to Des Moines fresh from the USATF 1500m Indoor title in March. The 2019 Pan-American Games gold medalist was also a 2019 World Championships qualifier.

Rising star Sinclaire Johnson will make her Grand Blue Mile debut after winning the USATF Outdoor 1500m title in 2022 to earn her a spot at the 2022 World Championships, where she finished sixth.

The women's line-up also includes a pair of Iowa talents returning to Des Moines in Alex Teubel and Abby Kohut-Jackson. Teubel, an assistant coach at UNI, finished third in last year's race, and the Lisbon, Iowa, native was an Olympic Trials finalist in the 3000m steeplechase. Kohut-Jackson is a product of Ballard, Iowa, who advanced to the USATF Outdoor Championships finals in the steeplechase and was Big Ten champion in the event at the University of Minnesota.

The fastest road Mile ever run on Iowa soil was at the inaugural Grand Blue Mile in 2010, won by Boaz Lalang in 3:54.3. A special incentive has been created for the winner, who eclipses that time or 4:29.3 in the women's national championship race.

The Grand Blue Mile 2023 fields are listed below.

MEN
Colin Abert
Abe Alvarado
Michael Brannigan
Jacob Brueckman
Luca Chatham
Vincent Ciattei, defending national champion
Casey Comber
Graham Crawford
Owen Hoeft
Austin Dalquist
Jonathan Davis
Kasey Knevelbaard
Nate Mylenek
Craig Nowak
Sam Prakel, 2020 national champion
Nick Randazzo
David Ribich
Nate Sloan
Shane Streich

WOMEN
Stephanie Brokaw
Katie Camarena
Alli Cash
Anna Connor
Micaela DeGenero
Katie Follett, 2017 national champion
Eleanor Fulton
Jessa Hanson
Nikki Hiltz, 2019 national champion
Marisa Howard
Sinclaire Johnson
Abby Kohut-Jackson
Melissa Menghini
Shannon Osika
Angel Piccirillo
Colleen Quigley
Jenn Randall
Emily Richards
Helen Schlachtenhaufen
Alex Teubel
Emi Trost
Addy Wiley

Registration for the Bring Back the Mile Featured Event is ongoing at GrandBlueMile.com. Registration is $20 for youth and $25 for adults.