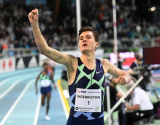 February 18, 2022
"First of all I want to improve my own times, but obviously beating a world record is a big achievement for me. I will always remember this, it feels amazing."
From World Athletics
It's easy to forget that Jakob Ingebrigtsen is still just 21-years-old.
Keen followers of the sport have been...
Read More
comments