Frank O'Mara still an inspiration after all these years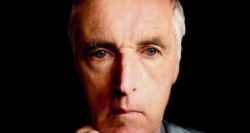 July 18, 2020
Former World champion and Mile star using discipline of his athletic training in battle with Parkinson's disease
By Sonia O'Sullivan, The Irish Times
In the summer of 1987, fresh out of my Leaving Cert and still a gangling 17-year-old, I was called up for my senior international debut, at the Europa Cup in Portugal, and that's where I first met Frank O'Mara.
Earlier that year Frank had won the gold medal in the 3000m at the first World Indoor Championships in Indianapolis, the day after Marcus O'Sullivan won the 1500m. Frank was already a superstar in my eyes and I could hardly believe it when we were all sitting around a local cafe the night before our races, chatting about life and running and everything in between.
I was shy, and a little terrified, especially when Frank started questioning my decision to go to Villanova over Arkansas, where he said the weather was much nicer, and could never have imagined he'd become such a close mentor and confidant throughout my own running career, and remain a lifelong friend.
Frank was 10 years ahead of me, having also made his senior Irish debut when he was just 17, which maybe helps explain why he was looking out for me. Our careers then overlapped for a while, including the 1992 Olympics in Barcelona, and that close connection remains special to this day, his 60th birthday. He continues to inspire and motivate in an entirely different way, as his life story to-date can attest.
Frank grew up in Limerick, starting athletics, like most Irish children, at the Community Games, winning the Limerick 400m and earning the dream trip to Mosney for the National Finals. When he started at St. Munchin's boarding school, in 1972, he played some rugby but always felt more aligned with athletics.
At the end of school year, in 1975, excited to be packing up for the summer holidays and looking forward to the comfort of his own bed and his mother's cooking, he got word that his father, Frank senior, aged just 64 had suffered a heart attack and was taken to Limerick hospital.
Back then children were not welcome visitors in the hospital intensive care units, so Frank wrote a letter to his father, promising that he would do everything he could to win the All-Ireland Schools intermediate 1500 meters the following year, in the hope that it would encourage his father to get well with something to look forward to.
Frank senior, a serial entrepreneur, a trait inherited by his son, was also an avid sports fan. As it turned out, this was the last communication his son had with his father, as the latter passed away one week later.
This turned out to be a catalyst for a dramatic improvement in Frank's athletics career, as he won that first schools 1500m title a year later, also winning the 3000m and helping St. Munchin's to the team title. In 1978, Frank then followed in the footsteps of his schoolmate Niall O'Shaughnessy to the University of Arkansas, convinced it was the right decision after John McDonnell was the only US coach to come and visit Frank to recruit him.
Frank ended up spending 11 years at Arkansas, earning a civil engineering degree at undergraduate level, an MBA in business administration, while staying on as assistant coach to McDonnell, and then continued on to law school, passing the Arkansas bar exam while at the same time throughout training and competing internationally on the European circuit, World Championship and Olympic stage.
INDOOR TITLES
He became only the third Irish male athlete to win the 1500m at the NCAA Championships in 1983, following on from legends Eamonn Coghlan and Ronnie Delany. He also helped Arkansas overcome Villanova at the acclaimed Penn Relay Championship of America event in Philadelphia in 1983, anchoring both the distance medley and 4 x 1500m, named the best male performer of the weekend.
Once graduated from Arkansas in 1983, Frank went straight to the Cork City Sports, a breeding ground for many young Irish athletes, and in one of his first races out of college finished in third behind John Walker and Steve Scott running a personal best 3:52.5 for the Mile. He went on to the 1983 World Championships in Helsinki that summer, before competing in three Olympics, 1984, 1988, and 1992, and winning two World Indoor titles over 3000m in 1987 and 1991.
Continue reading at: irishtimes.com
BELOW: O'Mara (left) with 4 x Mile relay world record teammates and fellow Irish legends: Marcus O'Sullivan, Ray Flynn and Eamonn Coghlan, 1985