Legesse, Stepanova win inaugural Monumental Mile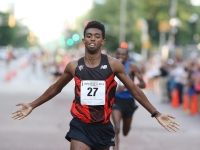 June 10, 2014
"Mile races are hard to find so when you have them, you want to pack them," said Ebersole. "Elites typically don't get many chances to run this type of race."
By Autumn Allison, Indy Star
Four seconds may have kept Frezer Legesse from breaking the 4-minute barrier a second time this year, but it didn't stop him from winning the inaugural Indianapolis Monumental Mile.
Legesse, 24, finished in 4:03.
"We went out too crazy to start," he said. "It was tough to close it."
Earlier this year, Legesse ran a 3:57 Mile indoors for the fifth-fastest time nationally, but he hasn't raced much since the season ended.
"I'm very excited and happy for my win. I'm also excited to try again next year."
Legesse, who lives in Bloomington, was part of a distance medley team that holds the school record at the University of Oklahoma. On Thursday, he beat a field of 30 runners in the elite category. Philip Lagat, Hebron, Ky., was second with 4:05, and Tom Anderson, Indianapolis, rounded out the podium with a time of 4:06.
Continue reading at: www.indystar.com