From Manual Laborer to 3:56 Miler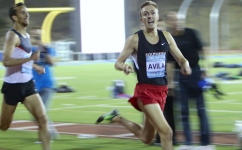 June 12, 2014
"It was more than just a race. And for me, it felt so good to deliver exactly at that moment."
By Alison Wade, Runner's World
When Eric Avila leapt—not ran—through the men's elite Mile finish tape at the Jim Ryun Festival of Miles on June 5, he was not just celebrating his victory or running 3:56.89 to break 4:00 for the first time. Avila was marking a high point in a journey that took him from high school state champion to college dropout performing tough manual labor to sub-4:00 Miler on the brink of earning a college diploma.
The 24-year-old will march in Southern Oregon University's commencement ceremony on Saturday, June 15, earning his bachelor's degree nearly seven years after beginning his college career. It's far from the path he envisioned when he graduated from Bonita Vista High School, in Chula Vista, California, in 2007.
Avila knew he had a competitive personality and some talent for running early in life. He ran a 5:28 Mile in eighth grade, as a 13-year-old, without any running-specific training. He initially joined his high school's cross country team to stay in shape for his first love, soccer. He didn't love to train, but he loved to win.
Continue reading at: www.runnersworld.com