Front Running Works for Sukhi Khosla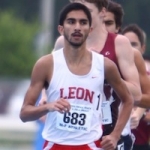 May 28, 2014
The Leon High junior leads the nation in the 1600m and has his sights set on a speedy Mile.
By Marc Bloom, Running Times
Athlete: Sukhi Khosla
Year: Junior
School: Leon High School
Location: Tallahassee, FL
1600m PR: 4:05.96
3200m PR: 8:59.50
With the nation's fastest 1600m time this season and his state meet already behind him, Sukhi Khosla of Florida has a number of weeks to focus solely on training as he waits and hopes for an invitation to next month's adidas Grand Prix Dream Mile in New York. After winning his regional race on April 24 in 4:06.45, and then the state title on May 3 in a nation leading 4:05.96, Khosla, a junior at Leon High School in Tallahassee, is as good a candidate as any for the elite event, scheduled for Icahn Stadium on June 14.
State Champ: After outrunning defending state champion, Niceville High School senior Nick Marken, 4:06.45 to 4:07.12 in the regional 1600m, Khosla and Marken faced off again in the state finals on May 3. Same tactics, same result, only faster: Khosla set the pace all the way, defeating Marken 4:05.96 to 4:07.95. In the regional, Khosla, who likes to lead, had 80 minutes to double back after the 1600m for the 3200m, which he won in 9:10.96. At state, he had more than two hours between events, and completed the double with a 3200m victory in 9:05.75. Khosla's PR in the event is 8:59.50, which he set at the Florida Relays on March 21.
Continue reading at: www.runningtimes.com