Gabe Jennings Inducted into Stanford Athletics Hall of Fame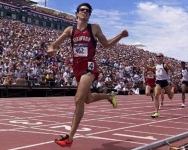 November 01, 2018
2000 U.S. Olympic Trials 1500m champion, Sydney Olympian & free spirit joins stellar class
From Stanford Athletics
STANFORD, Calif. – Eight former student-athletes and one head coach were inducted into the 2018 Stanford Athletics Hall of Fame and were recognized at Stanford's football game against USC on Saturday, September 8.

This year's group includes: men's golf coach Wally Goodwin, Kurt Grote from men's swimming, Gabe Jennings from men's track & field, Sara Lowe from synchronized swimming, Erica McLain from women's track & field, Josh Stein from men's gymnastics, Candice Wiggins from women's basketball, Kailee Wong from football and Felicia Zimmermann from fencing.

Long-time groundskeeper Sam McDonald also received special recognition.
Gabe Jennings '01, Men's Track & Field / Cross Country
One of the unique personalities in Stanford athletics history, Jennings was a 10-time All-American and 4-time NCAA champion, and helped the Cardinal capture the 2000 NCAA outdoor track & field team crown, its first in 66 years. Jennings grew up in Forks of Salmon, a remote northwestern California community, majored in math and had a strong interest in music, playing the didgeridoo and the berimbau among other instruments. While a Stanford student-athlete, Jennings won the 2000 U.S. Olympic Trials in the 1500 meters to earn a Team USA berth to the Sydney Games. Jennings captured the NCAA outdoor title in the 1500 and was twice runner-up. Jennings won NCAA indoor championships in the Mile (2000) and twice in the distance medley relay (2000-01). The sub-4 minute Miler also claimed three consecutive Pac-10 1500 titles from 2000-02 and was the 1997 U.S. Junior national cross country champion. His best collegiate times in the 800 (1:46.83) and 1500 (3:35.21) remain #2 all-time in Stanford history.
See the complete 2018 HoF class at: gostanford.com