Gagnon blazes sub-3:43 to win Manchester Mile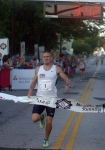 July 04, 2013
Men's Mile champion breaks own course record; Traynor women's champion clocking 4:20.40 on downhill road course
By Roger Brown, New Hampshire Union Leader
MANCHESTER, N.H. - One of the first things Brian Gagnon did after he won Wednesday night's third Hinckley Allen Manchester Mile was take off his shoes and search for a patch of grass. Gagnon's 3 minutes, 42.97 seconds was faster than the official world record for the Mile, but because the race is run at a downhill grade, it doesn't qualify for a world record.
"My feet are on fire," Gagnon said after breaking his own course record and taking home $2100 ($1100 for the win and $1000 course record bonus).
Gagnon's time not only set a record for the downhill course, it was also faster than the world record for the Mile (3:43.13) set by Morocco's Hicham El Guerrouj in 1999.
The Manchester Mile is not eligible for world or national records because of the course's 180 foot elevation drop.
Gagnon, an All-American when he ran for the University of Connecticut, set the previous record for the Manchester Mile when he won the inaugural race in 3:43.99. He did not compete in last year's race
"This is one of those one-of-a-kind things," Gagnon said. "It's downhill and it's fast. People won't look down on the time, but they'll push it to the side because it was downhill."
Gagnon, 26, was born and raised in Lowell, Mass., but currently lives in New Jersey. He said his best Mile time on a track is 3:57.00.
Nicol Traynor, 24, a former All-American at the University of Richmond, was the top female finisher, She completed the Mile in 4:20.40 and finished 12th overall.
Continue reading at: www.unionleader.com