Gallagher Has Sights on World Championships Qualifier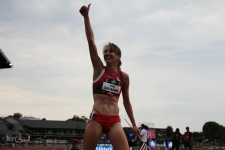 July 08, 2015
With the work I've done this spring, I am confident that I have that time in me. Now I just have to make it happen.
By Patrick McCormack, Brooklyn Daily
Kerri Gallagher exceeded her own expectations at the USA Track & Field Outdoor Championships, moving her closer to putting her name among the world's best runners.
"For the final, on paper, it didn't look like I would place very well," Gallagher said. "If you had asked me before the race, I would have been thrilled to be in the top half with how strong a field we were in."
Gallagher, who races for team Oiselle and the New York Athletic Club, surprised herself and her competition by finishing third in the elite field of the 1500 meters, with a time if 4:15.81 in Eugene, Oregon on June 28.
Continue reading at: www.brooklyndaily.com