GNC Liberty Mile Race Short Stretch of Fun for Runners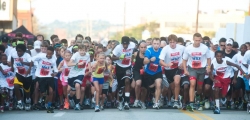 August 18, 2012
By Karen Price, Trib Live
The inaugural GNC Live Well Liberty Mile was billed as a race for everyone, a one-Mile run through the heart of the city Friday night that was open to ages 5 through 100.
Until recently, however, Christina Schuliger, 19, could only dream of being included among the estimated 1,200 to 1,500 participants. The North Allegheny High School graduate underwent surgery in October 2010 to remove a brain tumor and part of her cerebellum and, for a while, she couldn't even walk. Doctors said she'd never run again.
But this spring she started running on a treadmill, holding on tightly. Slowly, she started to loosen her grip and eventually didn't need to hold on at all.
Read more at: triblive.com