Golden Mile owed much to Thomas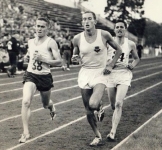 November 03, 2013
Pacemaker for Herb Elliott's world record shattering 1958 performance at Clonliffe Harriers Stadium
By Eamonn Sweeney, Independent.ie
Albie Thomas, who died last week at the age of 78, played a central role in perhaps the most significant international sporting event ever to take place in Ireland.
The Australian was the pacemaker in the Mile at Clonliffe Harriers Stadium on August 6, 1958 when the great promoter Billy Morton had assembled a top-class field for an attempt on the world record held by Britain's Derek Ibbotson.
Everything went according to plan as another Aussie, Herb Elliott, clocked 3:54.5 to knock 2.7 seconds off the record, with his second-placed fellow countryman Merv Lincoln also inside the old mark. Third placed reigning Olympic champion Ronnie Delany was just outside Ibbotson's record. In fourth place was future Olympic 5000m champion Murray Halberg. Small wonder that the stadium is now named after Morton.
Continue reading at: www.independent.ie