Greene Graduate, Oregon Track Star Looking for Olympic Bid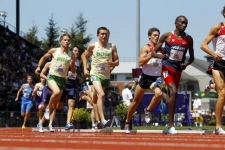 February 20, 2013
By Kevin Stevens, Press Connects
That he would one day limbo beneath the virtual velvet rope separating mere accomplished milers from the bona fide elite had never been a dream for Chad Noelle, rather a matter-of-fact objective.
And now that a 3-minute, 59.57-second clocking is in his rear-view mirror?
"I like to feel proud of it and it helps me to be confident, but I try not to get wrapped up in it because if you do, then you can start to be arrogant and I don't want to be like that," said Noelle, a second-year University of Oregon student-athlete from Greene. "If you hang your hat on what you've done, you lose your hunger to improve."
Noelle's breakthrough came two Saturdays ago in the University of Washington's Husky Classic, where on the 307-meter Dempsey Indoor oval, he logged the ninth-fastest indoor Mile in program history to win the collegiate section.
Continue reading at: pressconnects.com