Gregson breaks 50-year drought to win handicap Burnie Mile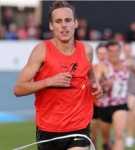 January 03, 2017
"I'm a big fan of the sport, and especially Mile running. I know all the history, so it just makes a win like this even more special. It's just so humbling to go down in the record books with some of the greats."
From Australian Olympic Committee
Olympic finalist Ryan Gregson became the first man in 50 years to win the Burnie Mile from scratch with a performance that rocked the timber stands at the 130th running of the Burnie Gift Carnival.
Not since Harry Downes won his third straight Burnie Mile from scratch in 1967 had the feat been achieved, a fitting piece of nostalgia on the milestone edition of the historic carnival.
King Island's Stewart McSweyn, who was pulled from 20m back to scratch after his win in Devonport early in the Tasmanian Christmas Carnival series, placed second, which made it the first time in history that scratchmarkers took both top spots. Rio Paralympic silver medallist Deon Kenzie placed third, narrowly ahead of defending champion Douglas Hamerlok.
"He's a local boy, it was great for him get a win in Devonport. And I think this year from McSweyn you'll see him make the World Championships and the Commonwealth Games next year on the Gold Coast," Gregson said after the win.
Gregson's winning time was 4:03.97 and while there was talk of a sub-4 minute assault, Gregson said it was the wind that ultimately stood in the way of what would have been only the 8th time in Australian history that a man had run sub-4 minutes for a Mile on grass.
"It was windy. It was really tough. The guys did a great job in making it come up nice, I saw the lawnmower go out just before the race. So that gave us every opportunity to run fast. Unfortunately the wind came up a bit, but I'd love to come back again next year and hopefully get a still day and crack four," Gregson said.
Continue reading at: Olympics.com.au