Harry Downes: an old pro who ran like the fastest amateur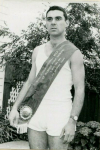 June 16, 2004
Australian records first sub-4 minute Mile for a professional in a handicap race on Bendigo Showgrounds grass track
From The Age
Before the era of open athletics, professional and amateur athletes often seemed to operate in parallel worlds.
They looked the same; they ran the same distances, but it seemed to be a case of never the twain shall meet.
Harry Downes was an exception. The 41st man in the world to run under 4 minutes for the Mile, the sixth Australian to do it, Downes ran for most of his career with a very amateur concept in mind. With each run, he wanted to run better.
When Downes began to show improvement as an athlete, it was not long before he got some typical advice from an experienced practitioner.
"I was running about 4:05-4:06 for the Mile," Downes recalls, "and this old 'pro' said to me, 'You want to slow up now and get your mark back'."
"Getting a mark", a handicap from which you can win, is the main objective of just about every professional runner.
Not Downes, however. "It was the last thing I had on my mind," he says. "Four minutes was always my goal."
So, in a manner reminiscent of John Landy almost a decade earlier, Downes pursued his goal determinedly. Again like Landy, he did it mostly on his own, except where Landy had no one fast enough to be of significant help to him, Downes had too many slower runners to get around.
Even though Downes broke 4 minutes for the Mile twice and won from scratch more than 40 times, the race he reckons was his finest was neither under 4 minutes, nor a win. Instead, it was his third place in 4:01 in a Mile in Burnie in 1967.
"There were 45 in the race," Downes recalls. "I ran 4:01, so I got around 42 of them."
Downes cracked the 4 minute barrier in 1963, in the famous Bendigo 1000 meeting. Laps of 57 seconds, 61 seconds and 59 seconds took him to the bell within sight of his long-time goal. Even going around runners in the final lap, he held on to run 62.7 seconds for a final time of 3:59.7.
The date was March 10, 1963, though it is often given as March 9. The reason says Downes, was the weather.
"We were to run on the Saturday evening," Downes recalls, "but there was a terrific rainstorm and the carnival was abandoned. So they crammed everything in to Sunday's program and we ran at about 9:00pm. The track was heavy."
The Bendigo Showgrounds track was also one of the best grass tracks in Australia. Big amateur and professional meetings were regularly held there. Landy ran a 4:02 Mile there in 1953 - Herb Elliott ran sub-4 minutes. American hurdler Jack Davis equalled the world record for the 120 yards hurdles in a pre-Melbourne Olympic Games meeting in 1956.
Only five Australians had beaten Downes to a sub-4. Landy was the first, of course, then Jim Bailey, Merv Lincoln, Elliott and Albie Thomas. Six years, and countless wins off scratch, later, Downes again broke 4 minutes - vindicating his class.
Continue reading at: theage.com.au