Heinrici, Boyer Set Skateboard Mile "World Records"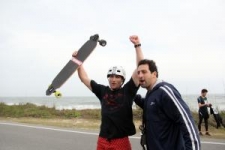 January 11, 2014
First sub-3 minute Mile on a skateboard done in Flagler Beach, Florida
By Shanna Fortier, Palm Coast Observer
Twelve longboard skateboarders from around the county barreled down A1A in Flagler Beach Saturday morning, January 4 at speeds of close to 25 mph in an attempt to enter the Guinness Book of World Records for the fastest individual Mile on a longboard.
That goal was reached by 11 of the 12 racers, who finished in front of the previous record time of three minutes, 35 seconds, held by Steven Sanchez.
Leading the pack was Kaspar Heinrici, of Dallas, who smashed the record, finishing in a speedy 2 minutes, 54.90, seconds.
Heinrici also participated in the Blue Sky Mile Challenge, where the previous record was set.
"Sanchez was really fast; I didn't think that record would ever get broken," Heinrici said before taking a victory swim in the chilly Atlantic. "To break that record was not an easy task."
Another new record holder from the morning race is Sidra Boyer, of Jacksonville Beach, who not only broke the woman's record but also the men's with a 3:30.86 finish.
Continue reading, includes results, at: www.palmcoastobserver.com