Here's your check list leading up to The Michigan Mile at the Crim Festival of Races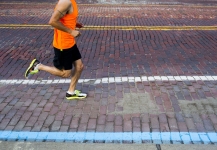 August 20, 2015
The Michigan Mile, with an overall event purse of $20,000, will also feature a Professional Men's Mile and Women's Mile with a $10,000 prize purse.
By Sarah Schuch, M Live
The 2015 HealthPlus Crim Festival of Races is right around the corner.
For runners and walkers, there are a lot of things to remember about the weekend of events in downtown Flint.
The 39th Crim event is expected to bring about 15,000 participants downtown, along with thousands of spectators.
Here's the breakdown of what you need to know leading up to the event:
Race schedule:
The HealthPlus Crim Festival of Races is schedule for Aug. 21 and 22, with the Michigan Mile on Aug. 21 and Teddy Bear Trot, 5K, 8K and 10-mile events on Aug. 22. For a complete schedule click here.
Continue reading at: www.mlive.com