Hilton, Rosenfeld Win Downtown Mile in Flagstaff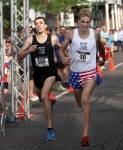 July 05, 2013
Team USA Arizona coaches Greg McMillan, Trina Painter take Masters titles; young and old celebrate 4th of July and iconic distance
By Bill Harris, Sun Sports Editor
The Flagstaff running community kicked off Fourth of July activities with the Flagstaff Fourth of July Downtown Mile bright and early Thursday morning with four festive races.
Flagstaff's Chamber of Commerce and Team Run Flagstaff put on the event's second year on the streets of downtown Flagstaff with the start and finish lines at Heritage Square.
The races are for runners of all skill levels, from Olympians, college students and high school standouts all the way to first-time runners. This year's 172 total racers competed in this year's "Patriotic Pride" events in four divisions: Masters -- for those 40 years old and older -- Citizens, Elite and the half-mile kids race for youth 12 years old and younger on the two-lap loop through downtown.
The first division to get things started was the men's Masters at its 7:00am start, followed by the women's Masters one minute later.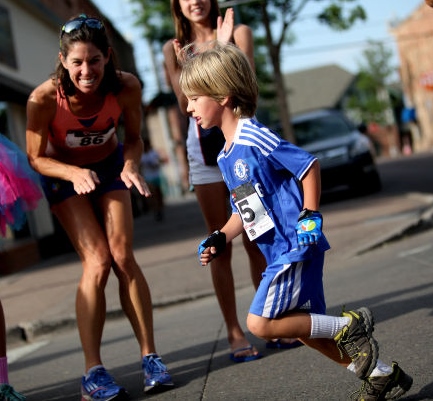 Flagstaff's Greg McMillan won the men's portion of the race with a time of 5 minutes and 6 seconds. He was followed by second-place finisher Gary Plank (5:18), also of Flagstaff, and Parks resident Daryl Onton (5:23) in third.
Flagstaff High School cross country head coach Trina Painter was the women's winner in 5:24. She was more than 1 1/2 minutes faster than second-place finisher Stephanie Del Giorgio and her time of 7:06. Missy Freshour (7:26) was third.
Painter said the race is just like having a track meet in downtown Flagstaff.
"The course is awesome. With the double loop you get more spectators out there and they see you twice and it's a lot of fun," Painter said. "You can zip across, and people can see you from both sides."
Continue reading, including more event photos, at: http://azdailysun.com