How Does Anselm LeBourne Do It?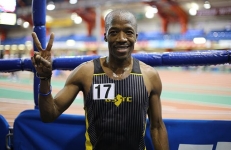 March 14, 2015
I think next year I can break these indoor world records again. I'm already thinking down the road, but that's just the way it is. That's my mindset.
Interview By Justin Gaymon, ArmoryTrack.com
Garden State Track Club's Anselm LeBourne broke his fifth 55-59 age group masters world record this year at Tuesday's NYRR Night at the Races. The 55-year-old crossed the Mile finish line in an impressive time of 4:34.79, lowering his previous world record of 4:37.05. His other current world records include a 2:01.60 in the 800m and 4:19.80 in the 1500m. We took some time to talk to LeBourne to find out how he does it!
You've had a lot of success at The Armory. What is it like for you to compete here?
I feel at home here at The Armory. It's only 45 minutes from my house. I can come here relax and run my race. Today I ran my race.
What pushes you?
World records. When I set a world record, the next goal is to break that world record. So that's what keeps me motivated to keep going and going.
How do you do it?
I don't know how I do it sometimes. Coming here today I was worried, but I felt good throughout the whole race. It was just fantastic. It's all due to hard work, though.
Continue reading at: www.armorytrack.com