How Fast Did Sean Run?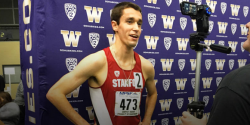 March 02, 2016
Stanford Junior McGorty clocks 3:53.95, the 4th fastest NCAA Mile indoors all-time
By David Kiefer, GoStanford.com
We know Stanford's Sean McGorty ran a fast Mile on Saturday – 3:53.95 at the Mountain Pacific Sports Federation Indoor Track & Field Championships in Seattle. But to really understand the accomplishment, we need perspective.
McGorty crushed Stanford's absolute Mile record (including indoors and out), which was 1988 Olympian Jeff Atkinson's 3:55.16 from 1986. But because the Mile is rarely run outdoors in collegiate competition, a better comparison would be with Stanford's all-time best 1500 meter times. Using the USATF's accepted 1500-to-Mile conversion factor of 1.08, we've come up with a top-5 list of Stanford's best metric Mile / Mile performances (with actual 1500 times in parentheses).
Continue reading at: gostanford.com