How Hungarians Launched America's Greatest Track Era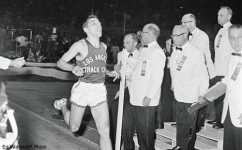 January 27, 2014
Mihály Iglói's coaching led to brilliant U.S. racing.
By Rich Elliott, Running Times
On the night of Feb. 10, 1962, the world of distance running shifted on its axis.
The scene was the Los Angeles Sports Arena. American miler Jim Beatty was racing in the featured event of the night, the mile, along with two of his Los Angeles Track Club (LATC) teammates, László Tábori and Jim Grelle. The race was a carefully planned assault on the world indoor record of 4:01.4.
The veteran Tábori hit the first quarter perfectly. Beatty led the second quarter, coming through the half in 1:59.6. Grelle muscled the third quarter, and then with a quarter to go, Beatty floored it. The fans in the packed arena leapt to their feet and roared. A tidal wave of sound brought Beatty home in a record 3:58.9, the first indoor sub-4:00 mile.
This world record in the mile signaled the first big success of the Los Angeles Track Club, a gang that would usher in the glory days of American distance running. Some of the LATC runners, and the runners they influenced, would set world records. Two would win Olympic gold medals. For a while, American distance runners would become, arguably, the best in the world. They would inspire generations of runners and coaches. And they would leave us with a persistent longing to return to the mountaintop.
The irony is that the breakthrough in American distance running in the 1960s may not have happened at all, if not for an unlikely series of events--a political uprising thousands of miles away, a critical decision by a brilliant Hungarian coach and his gifted protégé, and ultimately the formation of an ambitious new track club in America. It is a story best told by those alive today who were part of that running revolution: four former members of the LATC--Tábori, Beatty, Bob Schul and Joe Douglas--and one runner inspired by the club, Billy Mills.
Continue reading at: www.runningtimes.com