HS Boys Athlete of the Year: Hobbs Kessler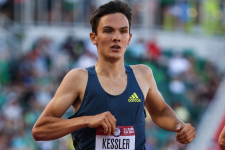 October 20, 2021
Prep indoor Mile and outdoor 1500m record setter and Olympic Trials qualifier: "I could have run a lot faster than I did, but I'm not super worried about that. Who really cares about high school PRs? I would rather not have them represent me."
By Jeff Hollobaugh, Track & Field News
Really, no one saw it coming. Not Hobbs Kessler, not his coaches, not his parents; certainly none of those track geeks who style themselves as experts.
The last time we picked a High School Athlete AOY — or even in '20, when because of the Pandemic non-season we used the term "MVP" — only a handful of people outside of Michigan had even heard of Kessler, and most of those were relatives.
Yet the '21 senior, who turned 18 on March 15, led the yearly lists in 1500, Mile, 3000 and 2 Mile, went undefeated by high schoolers, qualified for the Olympic Trials and obliterated the national record for the 1500 with his stunning 3:34.36.
It's fair to do the math on that performance; we certainly did. Using the standard conversion of 1500 time x 1.08, that equates to a 3:51.51 Mile. An historic performance by any measure. Lest anyone opine that it was all due to the "super-spikes" — yes, he was wearing a pair, as were virtually all of the other top preps and collegians — one has to wonder where were all the other prep middle-distance breakthroughs? In all, 8 preps broke 4:05 for the Mile (or its 1500 / 1600 equivalents) in '21. Nothing exceptional there. In the decade previous, there were three seasons with more.
So when it came time to vote for this year's AOY, the decision was a unanimous one (see chart below).
Kessler, who attended Ann Arbor's Community High (a magnet school with no sports) and represented for Skyline High in track, still shakes his head in amazement at his campaign. "It has been a crazy escalation. I got absolutely dropped by one of my teammates winter of my junior year. I still had workouts where some of my teammates would drop me in long runs and stuff."
He pauses to clarify his thought: "The escalation… I think a lot of the high school sub-4:00 Milers ran 4:10 or 4:20 as freshmen. I wasn't even one of the best freshmen on my team."
For the record, he ran 4:54.29 for 1600 that 9th-grade year, his first on the track. And while he improved quite nicely to a 4:18.96 indoors in his junior year, his real progress was obscured from fans during the pandemic. His outdoor season was canceled and all he had to point for were time trials. The results were impressive: 8:53.1 for 3200, 4:08.4 for the Mile, and 1:53.6 over two laps.
Tweets of the efforts caught the eyes of recruiters, starved for data in the season that wasn't. By last fall, Kessler had signed with Mike Smith's powerhouse Northern Arizona program. However, he came up short after dedicating the first solid year of training in his life to winning a State title in cross country. In an odd 2-section split at the Michigan state finals, he won the first race in 14:51.8, but rival Riley Hough won the second in 14:49.7.
So Kessler jumped back into his training. Guided by former Michigan coach Ron Warhurst — after his father Mike, the Skyline distance coach, handed him off — Kessler followed a training routine that was so gentle it has surprised many armchair critics. In January he averaged 50mpw. Every 4–5 days he did a harder workout that usually incorporated hillwork with some reps on the track —all of it outdoors in Michigan's winter. ("It keeps you tough.")
For most of his runs, he stayed with his high school teammates. For the track work he paired up with Mitchell Black, a local PhD candidate and one of Warhurst's charges who would later run 1:47.43 to qualify for the OT 800. Their last big workout before everything changed came on February 3: a 2 Mile tempo in 10:00, followed by a 400-300-200-600, all under 4:00 pace.
Four days later at the Razorback Invitational, Kessler stunned with his 3:57.66 High School Indoor Record.
"After that," he says, "I felt a lot more secure about myself as a runner. I had felt that I was a good runner, but no one really knew about me. I always felt like I had something to prove. I wasn't any better of a runner after I ran 3:57, you know? But after that I didn't feel like I had anything to prove to anyone."
The secret was out: suddenly everyone was watching the "out-of-nowhere" Michigander. At the end of February, he tried to hit a Trials qualifier in Austin but got tripped up and fell hard. He finished in 3:52.80, then the next day won the 1600 in 4:08.53.
Continue reading at: trackandfieldnews.com
2021 TFN HS Boys Athlete of the Year Voting