In the Running for Friendship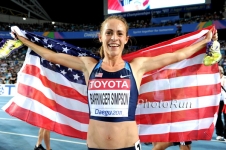 August 09, 2013
Jenny Simpson, the 2011 world champion in the 1500, has had a strong season after a disappointing London Olympics; grade school Mile set course for future running career
By Mackenzie Lobby, espnW.com
Jenny Simpson was probably the last kid on the playground anyone would have picked to become a world champion runner.
Although she was active and full of energy, she struggled with a series of respiratory illnesses throughout her childhood. She took to equestrian pursuits early on, competing in everything from dressage to show jumping to western pleasure.
Most of her memories of the club involve running laps around the schoolyard and eating popsicles.
"That third grade physical education teacher had no idea what he was starting," said Simpson, the reigning world champion in the 1500 meters.
Despite the relaxed nature of the program, at the end of the school year all the children competed in a 1-Mile time trial. That race set a series of events into motion that would define Simpson's existence.
"I ended up getting second place and my parents always thought that was the spark that made me want to continue to run," said Simpson, who will be competing at the World championships, which begin Saturday in Moscow. "I wanted to come back and win the next year and that got the ball rolling."
Continued reading at: http://espn.go.com/espnw/athletes-life/article/9552748/espnw-jenny-simpson-retraces-tracks-track-prepares-defend-1500-meter-title-world-championships