Inaugural Christmas Eve Mile expects 500 Santas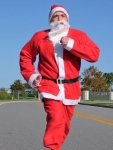 November 10, 2016
The Viera event is a Mile partially because of the prominence of Bring Back the Mile, a national initiative to restore shorter races, and because the shorter distance simply suits the day.
By Lyn Dowling, for Florida Today
Santa Claus is running to town.
He will start his work early Christmas Eve in Viera, and in multiples, as 500 red-clad, bearded, hatted St. Nicks are expected to participate in the inaugural Run Run Santa 1-Miler to benefit Calvary Chapel's teen program.
The race is the brainchild of Mike Acosta, owner of Viera Pizza and veteran runner, the brains behind the annual Eat My Crust 5K; and Brittany Streufert, a fellow Viera resident, Space Coast Runners stalwart and race marketer.
Only Santas will be permitted in the race.
"We think it will go over pretty well and we're going to try to cap it at 500 entrants in its first year," Acosta said. "If we get really big, we may expand it just a little. So far, registrations are going well."
Continue reading at: www.floridatoday.com