Jake Edwards: The Relatability of the Mile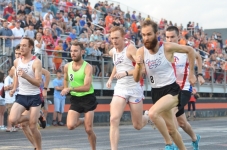 September 24, 2014
Jake Edwards, a 3:58.09 Miler and recent graduate of Ohio State University, organized a sub-4 minute Mile attempt at his Delaware High School alma mater on Friday, August 22, 2014 during halftime of a football scrimmage. Below is Jake's story as to the "why" and the importance of the Mile for the American public.
DELAWARE, Ohio - Setting up the race was not as easy as I imagined. Without a budget, it was tough to attract guys capable of running under 4 minutes for the Mile, but fortunately a lot of local guys, friends and training partners, stepped up to fill the field. I think they saw the potential for a cool event and were intrigued. Drew Windle, a 1:46 800 meters guy was also a huge help. That's the cool thing about the running community. I'd never met Drew before, but we're both from central Ohio. I just tweeted at him, asked him to rabbit me, and he obliged.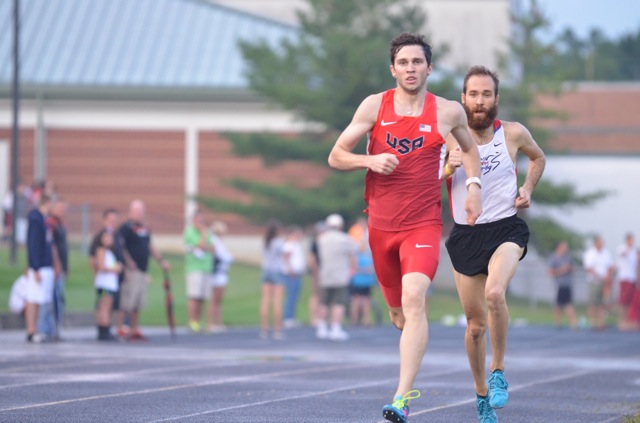 For me, the race was about running a fast time in my hometown. When I was in high school I was frustrated with how as a sport, we alienated ourselves. Meets were always far away, and there were few opportunities to run in front of friends and family. I had this idea of finishing a high school cross country race at half-time of a football game, in front of a roaring crowd. At the time, it wasn't something I could put together, but now with the help of my former coach and the administration, it was possible to put on a half-time event.
The atmosphere was incredible. Two weeks before, I rabbited Nick Willis' Ron Warhurst Mile. As Nick and Garrett Heath battled down the homestretch, I remember being in awe of how loud and enthusiastic the crowd was; it was like nothing I'd experienced before. As I hit the homestretch with a lap to go at our hometown event, the crowd we had on hand was just as loud. It blew me away that it didn't take educated track fans from Oregon to make up a good crowd, it just took some familiarity with the Mile distance and a sub-4 minute Mile goal. The crowd knew me and they knew I wanted to break 4 minutes. Talent and community brought together made for a great crowd and with these recent experience I think there is a huge untapped potential for more local races.
The "why" is simple. I needed a race and I knew I could put one together. I'd estimate about half the crowd that night was there to see the race, which left the other half, all high school football fans, possibly somewhat confused at first. Had we been going after a 1:48 in the 800 meters or a 13:30 5000 meters, they would be utterly confused. Those times at their respective distances may mean something to the diehard track fan, but to the casual sports fan it means nothing. A Mile is just relatable. Everyone there understood the simplicity and symmetry of 4 laps in under 60 seconds per lap. Everyone there knew when I hit the bell in 3:02 that it was going to be close, and it got them excited.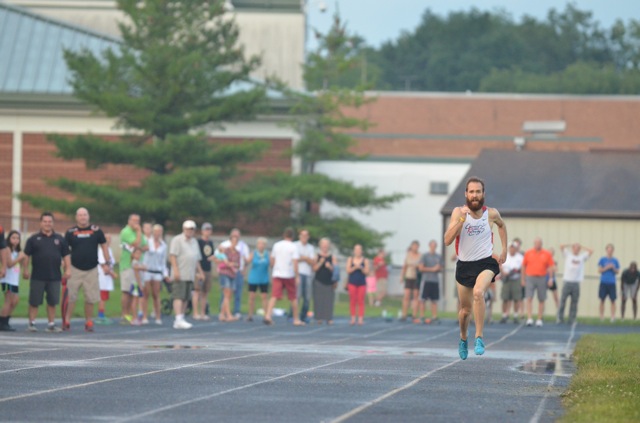 I was disappointed to not get into the only two fast domestic Miles in August, particularly when I thought I was in shape for a personal record, but that's the problem everyone has; you can't get into fast races without the times, and it's tough to run fast times without the fast races. This turned out to be an incredible opportunity for me and also the community.
As more people get familiar with the idea locally, maybe next year we can make it even bigger!
Thank you and good luck, Jake, from your friends at Bring Back the Mile.