Jenny Simpson hits her stride as U.S. distance running's new leader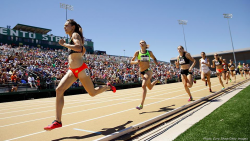 July 15, 2015
Her goals this season include winning the World Championship 1500m crown again, this August in Beijing, and, at some point, making another run at Slaney's record.
By Christopher Chavez, Sports Illustrated
Jenny Simpson watched the 2004 Women's Olympic Marathon on television. She was 17 then and still Jenny Barringer, an eight-time Florida state champion in track and cross country who was about to head off to run at Colorado. Watching U.S. marathoner Deena Kastor win bronze in Athens struck a powerful chord.
"It was inspiring to see [an American woman] medaling at the Olympics," Simpson says. "It was a poignant moment for a lot of high school distance women my age."
Simpson would make her first Olympic team four years later in the steeplechase. At those Beijing Games she roomed with Shalane Flanagan, a former star at North Carolina who earned a bronze in the 10,000 meters. "I saw Shalane as a very recent graduate from college, and I was in college," Simpson says. "I thought, If this woman could do it, I could do it."
Continue reading at: www.si.com