Jenny Simpson: How I Find Peace at the Starting Line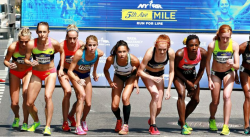 November 13, 2015
It's that little kid that runs out way too hard in elementary school in their first Mile race; there's a piece of that still inside me.
By Aimee Berg, ESPN W
Jenny Simpson has run hundreds of races in the past 20 years, from her first Mile in elementary school to winning New York City's 5th Avenue Mile for the fourth time in September. She's also earned four NCAA titles at the University of Colorado, won two World Championship 1500m medals (gold and silver) and competed in two Olympics.
Simpson finishes first so often, in part, because she's an expert at managing the start. "I really have a lot of peace at the starting line," she says. "That's a place where I feel pretty good about myself."
How is that possible? Here's what she thinks about while she's waiting for the gun.
I'm at home. "I've definitely had to learn how to cope with nerves, but the starting line is not when I'm nervous," Simpson, 29, says. "I think a lot of it goes back to my favorite sports movie of all time: 'Hoosiers.'"
Continue reading at: espn.go.com