Jenny Simpson: How to perform when it counts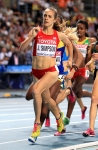 September 23, 2013
"I found myself in front, but just kept saying to myself: 'you're going to be really hard to beat. Do what you are capable of doing'."
By SPIKES Magazine
After winning gold and silver at the past two World 1500m finals, the USA's Jenny Simpson, 27, is earning a reputation for being a master at performing when it really matters. Here are her top tips for getting it right at a major championships…
Planning makes perfect
"I have really good coaches who know how to help me peak at the right time. You can work really hard all the year around but if you don't have a formula to peak at the right time you end up working against yourself.
"This year we put a star next to the date of the World Championships final and worked back from there.
"This is not as easy at is sounds, and it's hard to recognise how many sacrifices you have to make during the season in order to truly prioritize the World Championships. There's a lot of fun and exciting races early on in the season that I have to say no to, because I want to be really ready and make every race count leading up to the World Championships.
"One example of a race I had to turn down this year was the Diamond League in Lausanne, which came right after the USA Championships. I was already guaranteed a place in the U.S. team for the World Championships [Jenny had a wildcard as the defending world champion] and I ran the 5000m at the USA Champs.
"I thought running in Lausanne would have been good to get some Diamond League points. Instead, I decided that after the race it was important for me to regroup and restore myself from the 5K effort, and stay in the USA a little longer."
Continue reading at: http://spikes-mag.tumblr.com