Jenny Simpson Plans to Run the 2024 Olympic Marathon Trials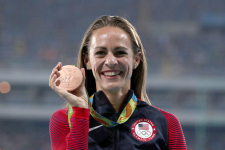 August 01, 2023
"I want to spend the last few years of my career doing longer road races."
By Chris Chavez, citiusmag.com
Jenny Simpson says she is planning to run the 2024 U.S. Olympic Marathon Trials in Orlando on Feb. 3, 2024. In an interview with Track Shack, she subtly noted she'll make her marathon debut before February's race but has yet to announce which marathon.
Here's what you need to know:
► The U.S. Olympic Marathon Trials course in Orlando was unveiled on Tuesday morning and met with much criticism over the decision to start the race at noon.
► After a successful career on the track from 2007 to 2021 that included an Olympic bronze medal in 2016, the 2011 World Championship gold medal and two World Championship silver medals, Simpson, an Iowa native who grew up in Florida, has decided to focus on the roads.
► She parted ways with longtime sponsor New Balance in 2022 and signed with PUMA. Since the change in Oct. 2022, she has raced three times. The Boulder-resident qualified for the marathon trials with a 1:10:35 for ninth place at the Houston Half in January. She has not raced since.
► Simpson hinted at making her debut before Orlando, which would signal a fall marathon. She was not included in the Chicago Marathon's elite field that was announced last week. She could run the New York City Marathon on Nov. 5 with her close ties to New York Road Runners as a record eight-time winner of the 5th Avenue Mile.
► Her husband, Jason, competed at the 2020 U.S. Olympic Marathon Trials in Atlanta and is hoping to qualify for next year's race.
Here's what she said:
Simpson: "It's a mystery to me like it is to a lot of people. I don't really know what I'm getting myself into. The road has been bumpier than I expected..."
Continue reading at: citiusmag.com