Jenny Simpson Rolling Toward Beijing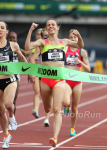 July 03, 2015
I wanted to experience what she did—it was, "If she can do it, I can do it." So that moment with Shalane in 2008 was really important for me.
By Jon Hendershott, Track & Field News
Two-time Worlds 1500 medal winner Jenny Simpson, the 2011 global champion as well as twice an Olympian, generously visited Track & Field News's tour banquet in Eugene—June 27, 2015, the night before she defended her national 1500 crown.
She spoke revealingly with intelligence and humor about a wide range of topics: having a bye into the Worlds, respecting her race and her foes, getting ready to run at major title meets, handling going through the call room and even why she won't ever return to the steeplechase.
The 28-year-old Boulder resident began by talking about progressing through the qualifying heats at nationals:
Simpson: Preliminary rounds can be so much more intimidating and terrifying because they're the kind of race that you want to get through as safely as possible. We were in the mixed zone after my heat [which Simpson won in 4:08.55, easily the fastest of the 3 prelims] and the first question one reporter asked me was would I come back and run the final.
Continue reading at: www.trackandfieldnews.com