Jenny Simpson Talks About Fleeing Wildfire, Helping Her Community Rebuild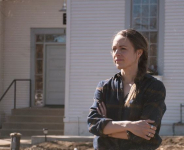 March 04, 2022
"I'm again drawn to what is bigger than myself, whether that's wearing a Team USA uniform at the Olympic Games or being part of a long and significant Colorado legacy, I feel really privileged that I get to be a part of something bigger than me."
By Erin Strout, Women's Running
On December 30, 2021, Jenny Simpson and her husband, Jason, happened to be outside trying to secure the materials in the yard intended for a construction project. The winds that day, ranging from 60 to 100 miles per hour, were outrageous—and dangerous—on the Front Range near Boulder, Colorado.
Jason soon said he smelled smoke. The couple looked up from their futile attempt to secure their supplies. The gusts were so intense that they didn't spot a plume that's typical of the start of a wildfire—instead they saw smoke that was staying lower to the ground and coming toward their property.
Their home, a registered historic property on Cherryvale Road in Marshall, is an old schoolhouse, built in 1900 to educate miners' children. About 15 minutes southeast of downtown Boulder, it sits in the middle of an acre of prairie grass, with views of Eldorado Canyon, Devil's Thumb and the Flatirons.
"Jason and I immediately sprung into action and thought, 'If there is a fire on a day like today, our house will be in trouble,'" said Simpson, the 1500 meter bronze medalist at the 2016 Rio Olympics. "We plugged in the hoses and started watering down the things immediately around our house that would be the hottest fuel—the fencing, the siding, the things around our house that are combustible. You want to give yourself every chance possible."
The Marshall Fire on December 30 was the most destructive in Colorado's history, forcing 35,000 people to evacuate, destroying more than 1,000 homes, and burning 6,200 acres.
Simpson, 35, recently spoke with Women's Running by phone from her home, where she and Jason were visiting for the afternoon in mid-February—though the house survived the fire, they are temporarily displaced, living in an apartment, while smoke remediation and repairs to attic damage are being completed. Simpson described their escape from the fire in December, how their Marshall community is coming together in the aftermath, and the new role that running plays in her life.
This conversation has been edited for length and clarity.
Women's Running: You're not living in your home right now. Why don't you start by describing the current situation in the six weeks since the fire?
Jenny Simpson: If you drive by on the road, you'd look at our house and think it's a miracle it's totally fine. I would say that now, a month and a half out, we are 98 percent totally fine and in short order we will be 100 percent back to fully restored as far as the structure of the home. But there are some fire damage things we have to do, like remediate the smoke and other things that are boring to explain, but are not fine. That's what I'm discovering that's maybe a parallel to trauma: everything looks OK on the outside but on the inside, things are not OK. It's an appropriate parallel to the emotional toll of this as well—outside, day to day, we see our neighbors and people are going to work and starting to clean up and going back to their normal life, as would be expected. The world continues to spin, but internally, this entire community has a lot to heal from.
WR: I know that thinking about the events of that day is very difficult. I don't want to cause a lot of emotional distress for you, so please let me know if I'm asking questions you'd rather not talk about.
JS: To put you at ease, one of the reasons I haven't done interviews until now and talked about it is because we did protect that space. We needed enough time and space away from it to be able to talk about it in a way that is appropriate and reasonable.
WR: I feel like wildfires for those of us living in the western U.S., especially, are always a big concern.
JS: We were a little bit lucky that we moved here two years ago and our home is in the middle of a prairie. We're surrounded by open space. I think the threat of fire and what it could possibly do to our home was something that was on our minds as we purchased the place and started to make it our home. I feel for a lot of these neighborhoods that had this inconceivable threat come and consume their homes. For us, the possibility of that danger threatening our home was something we had thought about before, so we had a little bit of an advantage.
WR: Take me through what happened that day after Jason smelled the smoke and you started hosing things down.
JS: We have a huge view of the grass prairie in our backyard. I think we had always imagined that we would see a fire coming. It was strange because the fire spread more through the trees than through the grass. In the southwest corner of our acre, we have a little thicket of trees. That caught fire and the fire approached in a way that we couldn't see until it was already in the yard. The smoke was getting more intense, so I ran inside to put the dog in a place where I knew where he was.
I always thought if we were leaving our house for a fire, we were leaving for the last time. I never thought we'd come back. I had a little emotional advantage in thinking that we needed to grab the things that we couldn't do without. I had our keys, our wallets, our computers. Many years ago I inherited my great grandmother's Bible, and Jason has carvings from his family, so I grabbed a few of those. I remember in that moment, running around the house grabbing these one-off meaningful items and suddenly had this choked-up feeling. Am I really doing this? Are we really maybe leaving this house for the last time?
So I grabbed these things and threw them at the front door, then I went out back to join Jason and assess what was happening. That's the first time I saw the flames in our little forest area. I thought we were actually really in trouble. There's something in your survival brain that shifts dramatically when it goes from smoke to flames.
WR: So, it was definitely time to leave the property?
JS: I yelled at Jason, and I went back in the house to grab the dog and start putting things in the car. When I opened the front door, which is like six steps from the back door, our entire front yard was on fire and the fire was climbing the hillside across the road from our house. It was so crazy because in six steps I went from seeing the trees in the back and thinking, "Oh no, the house might really be in trouble," to seeing the front yard and thinking, "Oh, we might really be in trouble." That is a second, very traumatic shift in your brain, from thinking your belongings are in trouble to thinking your dog and your husband and my own life might be in trouble.
WR: How were you able to get to the car?
JS: I picked up the dog, got one bag—I only had one chance to run to the car, so I didn't bring all the stuff I had collected at the front door—I ran to the car and ran through flames in the yard to get to the driveway, to get to the car. I threw the dog in, started the car, and by then a sheriff's deputy had driven in to find out if anybody was there and get them out. It's crazy how quickly the smoke enveloped everything. It's really hard to see where the police vehicle was or where the road was. Am I going to get hit by another car?
Jason didn't realize I had the keys to the car and the entire area is now on fire. He opened the garage door and one of the huge tarps from construction flew out and took out the police officer and threw her down on the ground. It was a really dramatic scene. It was really scary. Everybody was doing the right thing, it was just it was the nature of a frightening event. Anyway, the officer grabs Jason and says, "You have to leave, you have to leave," so he jumped in and we took off down the street.
Continue reading at: womensrunning.com