Jim Ryun Recounts His Storied High School Career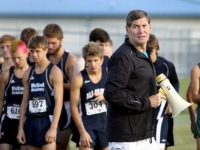 April 29, 2014
Mile legend special guest at May 10th Helping Hands 5K to benefit area's homeless
By Keith Chartrand, Ocala Star-Banner
On the morning of May 10, hundreds of runners will take their mark at the Helping Hands 5K run at the Baseline Greenway Trailhead. All types of runners — male, female, adult, youth, serious, casual — will be on hand to run their best while raising funds so Helping Hands can help rebuild the lives of abused and homeless people in Marion County.
Of the numerous special guests who will be honored at a banquet the night before the 5K run, one will actually be at the trailhead hosting a runner's clinic the morning of the race.
Running in its simplest form — quickly putting one foot in front of the other — wouldn't be viewed as something that athletes need instruction in. Yet the man hosting the clinic knows a little more than the average person about being fast.
Jim Ryun was the first high school student in the world to run a Mile in under 4 minutes. It is Ryun, who graced the cover of Sports Illustrated as a high school junior in September 1964, who will be sharing his expertise with local runners.
Continue reading at: ocala.com