Jordan McNamara's Magical Season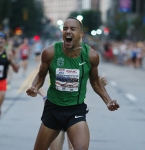 October 09, 2014
The winner of four Mile races during 2014 season: "As a 4:17 high school Miler, I'm a prime example of what determination and consistency can produce. High schoolers, I hope you're taking note!"
From Portland Track Weekly
Breakthrough seasons don't happen every year for a professional track and field athlete. They are rare. It's that season where so much goes right, an athlete comes up big time and time again, finding not only a new level of fitness, but a new level of confidence. When a breakthrough season happens, you must embrace it.
Such a season just wrapped up for Oregon Track Club Elite's Jordan McNamara. McNamara, who's been on of the best middle distance runners in the U.S. the past few seasons, turned his racing up a notch, claiming numerous big wins throughout the 2014 season. Here are just a few notable performances:
3:51.0 (Mile) - NYRR Fifth Avenue Mile - Champion
3:55.0 (Mile) - Front Street Mile - Champion
3:52.89 (Mile) - Pre Classic - Runner-Up (only lost to Olympic medalist Leo Manzano)
1:47.16 (800m) - Portland Track Festival - Runner-Up (personal record)
3:54.27 (Mile) - Festival of Miles - Champion
4:03.0 (Mile) - GNC Live Well Liberty Mile - Champion
3:39.03 (1500m) - TrackTown High Performance - Champion
We had a chance to catch up with McNamara earlier this week, discussing his big season, the reason for his jump forward, flying drones and much more.
Portland Track (PT): What a year you've had! A handful of wins, a new level of success, you have to feel pretty darn good about your 2014 season right?
Jordan McNamara (JM): I'm definitely a man with few complaints. I was fortunate to really come into my own this season, constantly stringing together wonderful performances. I'll always look back at 2014 as a true breakthrough; now I need to draw a line in the sand and focus on continuing this momentum through to Rio 2016.
PT: Not too long ago, you won the prestigious NYRR Fifth Avenue Mile over a stacked field. What did that race teach you about yourself and where you stack up in U.S. 1500m running?
JM: Going into 5th Ave, I knew the potential was there. My workouts were going very well, and my racing reflected that. I didn't expect to win, but wasn't surprised either. I had learned a great tactical lesson at the Pre Classic. In that race, I gave myself way too much to do in the last 100. I worked my way out of a box, kicked very well, but ended up second to the great champion Leo Manzano. After that race, I knew I had the tools to win, but in order to do so, I needed to really give myself a fighting chance. After that, I really tried to be "in the hunt" with 100m to go, to at least give myself a shot to roll the dice in the kick.
Continue reading at: www.portlandtrack.com