Kampf Threepeats as Grand Blue Mile Champion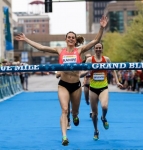 April 27, 2016
Noelle wins men's race; pair lead more than 3,500 runners through downtown course
From Drake Relays
DES MOINES, Iowa – Heather Kampf successfully defended her Grand Blue Mile title for the second straight year on Tuesday evening, winning the women's Mile invitational race in 4 minutes, 37.52 seconds, while Chad Noelle, competing in his first race as a professional, took the men's title, clocking 4:12.11. Each champion took home $5000 for breaking the tape first.
"Any time you're successful somewhere, when you come back and try it again, it breeds confidence," Kampf said. "It was great to come back and have a good race. Knowing the course is great, it's logical, I like the course and it's easy to understand how to race it."
Kampf held off Olympian Nicole Sifuentes of Canada, who finished runner-up in 4:37.95, while Nikki Hamblin was third in 4:38.78.
Noelle narrowly edged the talented men's field as Frezer Legesse finished just two-hundredths of a second off the winning pace. Riley Masters was third in 4:12.34.
"This was a good way to start my career as a pro and I'll be back to race on the Blue Oval in the 800 meters," Noelle said. "It's a surprise to myself, it feels really good. All of those guys are studs."
The Grand Blue Mile is an annual one-mile fitness run/walk sponsored by Wellmark Blue Cross and Blue Shield, in partnership with Nationwide and the Drake Relays presented by Hy-Vee, to engage individuals at all stages of fitness, encourage healthy habits and empower positive change.
The Grand Blue Mile marks the competitive start of the 2016 Drake Relays presented by Hy-Vee. More than 3,500 runners took part in the 7th edition in downtown Des Moines' Western Gateway.
7th Grand Blue Mile
Des Moines, IA, Tuesday, April 26, 2016
MEN
1) Chad Noelle (USA), 4:12.11
2) Frezer Legesse (USA), 4:12.13
3) Riley Masters (USA), 4:12.34
4) Nate Brannen (CAN), 4:13.23
5) Robby Nierman (USA), 4:13.58
6) Drew Windle (USA), 4:14.35
WOMEN
1) Heather Kampf (USA), 4:37.52
2) Nicole Sifuentes (CAN), 4:37.95
3) Nikki Hamblin (NZL), 4:38.78
4) Rachel Schneider (USA), 4:40.03
5) Amanda Eccleston (USA), 4:44.41
6) Katy Moen (USA), 4:50.04
7) Stephanie Jenks (USA), 5:15.16