Kentucky Mile Records Fall at ISU Classic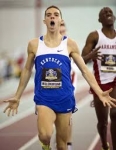 February 15, 2014
Hillenbrand clocks sub-4 minute Mile; Peare breaks women's school record too
By Jacob Most, UK Athletics
AMES, Iowa – Allison Peare broke a 25-year-old school record on Saturday at the Iowa State Classic. Not to be outdone, Matt Hillenbrand broke four minutes in the Mile for the first time in his career; just moments after Peare posted her scintillating Mile time.
Hillenbrand's time of 3:57.0 also broke the school record, a mark that had only lasted for 24 years. Additionally, Hillenbrand became just the third Wildcat ever to break the four-minute barrier, besting Bob Whelan's UK-record time of 3:58.77, which he clocked to win the 1990 NCAA Championship.
Peare finished the ISU Classic Mile as the top collegian, and fourth overall, only behind three elite-level professionals. Peare stopped the clock at 4.35.80, breaking 1989 Southeastern Conference Mile champion Lisa Breiding's school record (4:38.37 in 1989) by more than two seconds.
Hillenbrand's time ranks #3 in the nation, and leads the SEC. He is the defending conference Mile champion. Peare's performance is the fourth-fastest in the country this season and ranks #2 in the SEC.
Continue reading at: www.ukathletics.com