Kerri Gallagher: From Brooklyn to Beijing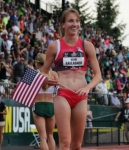 August 21, 2015
Gallagher is grateful for all the support she has received as she gets ready for the biggest race of her life; 1500m prelims will be broadcast on the NBC networks at 11:15 p.m EST.
By Patrick McCormack, Brooklyn Daily
Kerri Gallagher is preparing for the biggest race of her career.
The former Bishop Kearney and Fordham University star is racing in the 1500 meters for Team USA at the International Association of Athletics Federations World Championships in Beijing on Saturday, August 22, and has herself ready to give her best.
"Training has been going really well," Gallagher said. "I had the opportunity to get some good workouts in after coming back from Europe. At this point it is all about maintaining fitness and staying confident, which I think I am doing a good job with."
Continue reading at: brooklyndaily.com