Kids get competitive at the Marion Mile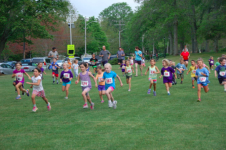 July 22, 2015
"I only want to beat the boys because they tease the girls for being slow."
By Sara Lafrance, Sippican Week
"No high fives!" shouted a 7-year-old runner as he crossed the finish line. "This is serious!"
To some, the Marion Mile is much more than a race. It was started in 2002 by Chris Adams, the cross country and track coach at Tabor Academy, and has been a growing success for 14 years.
"I started the Marion Mile when my son was eight-years-old. The local 5K was too hard on his legs because he was still so young. I wanted to give him and other kids his age the opportunity to race for fun without putting too much stress on their legs," said Adams.
The Marion Mile is, as its name implies, a one-Mile long fun run on Tabor Academy's campus fields. The inaugural race was made up of six kids, but grew to 20 as the summer progressed.
Only half way through this summer, the program saw 200 kids between the ages of 2 and 14 cross the finish line on the most recent Tuesday evening run. Adams hopes that this number will continue to grow as the program stretches through the summer.
Continue reading at: sippican.villagesoup.com