Kipyegon claims record third World 1500m title in Budapest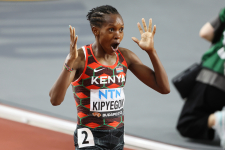 August 22, 2023
She had covered the final 800m in 1:59.83 – a time that has won World 800m titles in the past
By Jon Mulkeen for World Athletics
Just moments after U.S. discus thrower Laulaga Tausaga-Collins produced the biggest shock of the World Athletics Championships Budapest 23 so far, Faith Kipyegon delivered perhaps the most expected victory.
That's not to say her 1500m triumph – her third World gold at the distance – was any less satisfying.
The 29-year-old Kenyan was already one of the all-time greats at the distance, having won Olympic gold in 2016 and 2022, along with World gold in 2017 and 2022. But this season she has shown that she can break records as well as win medals, having broken world records for the 1500m, Mile and 5000m.
All of which simply strengthened her status as the overwhelming favorite for the title.
But even the biggest of favorites can sometimes be beaten, especially in a final of this quality, as it contained multiple World and Olympic gold medalist Sifan Hassan, Olympic silver medalist Laura Muir and rising Ethiopian talents Diribe Welteji and Birke Haylom.
It's little wonder, then, that Kipyegon didn't want to take any chances. In stark contrast to the racing style of her arch-rival Hassan, who usually stays at the back of the pack, Kipyegon controlled the race from the front.
She opened with a 65.14-second lap, with Welteji, Muir and Ireland's Ciara Mageean close behind as Hassan took up her usual position towards the back of the field. A 66.64-second lap followed, Kipyegon still at the front, with the same three athletes close behind her and the rest of the pack closely bunched up.
Kipyegon then started to wind up the pace and threw in a 60.63-second lap. It wasn't enough to fully break up the field or drop her rivals, but it was enough to let them know that the real racing had started.
Kipyegon kicked hard as the bell sounded, opening up daylight between her and Welteji with 200 metres to go. Hassan, meanwhile, had moved up into third place, overtaking Mageean, Muir and Kenya's Nelly Chepchirchir.
But there was no catching Kipyegon as she moved into her top gear down the home straight, pulling away to win in 3:54.87.
It's little wonder why she was uncatchable too; she had covered the final 800m in 1:59.83 – a time that has won World 800m titles in the past.
Welteji, who finished fourth over 800m at last year's World Championships, this time claimed silver in the longer event, the 21-year-old crossing the line in 3:55.69 – her sixth sub-4 minute clocking of the season.
Hassan, meanwhile, held on for bronze in 3:56.00, redemption of sorts after missing out on a potential medal in the 10,000m on the first day of the Championships.
Mageean finished fourth in an Irish record of 3:56.61, while 20-year-old Chepchirchir – who had impressed in the heats and semifinals – clocked a PR of 3:57.90 for fifth.
The next three women – Muir, Australia's Jess Hull and Britain's Katie Snowden – all finished inside 4 minutes.
"This is a great season for me: breaking world records and becoming a world champion here, defending my title," said Kipyegon. "I told myself, 'You are the strongest, just keep going'.
"Today I was chasing this title and I was chasing history," added Kipyegon, who became the first woman to win three world 1500m titles. "My plan was to get to the front and to go faster because I know these races can be up and down. I just got myself in front after 300m and nobody came."
Welteji, a world U20 champion over 800m back in 2018 when she was just 16, was delighted to win her first senior global medal.
"This silver is beyond of all my expectations," said Welteji. "To run the World Championships final alongside an athlete such as Faith is very special. I tried to keep my eyes on her and to follow her pace as long as possible."
Hassan admitted that she questioned her choices somewhat when she lined up for the 1500m in Budapest.
"I only moved from marathon training just a few weeks ago and I was struggling to get my speed back," she said. "Before I decided to enter these three events (1500m, 5000m and 10,000m), I did not look at how fast the girls are this year, so when I looked at the start list for my heat, I was wondering why I put myself in this position. I would never have imagined that I would win a medal. This season has been really crazy so far – especially for me – so this medal is really something special."
Photo credit: Getty Images