Larrieu Smith named to Pac-12 All-Century Team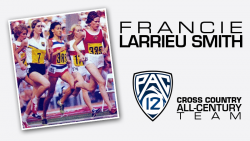 November 24, 2015
Mile legend was also selected "The Most Versatile Runner of the Quarter Century" by Runner's World magazine in 1999.
From Southwestern Pirates
Francie Larrieu Smith was named to the Pac-12 Conference's All-Century Team for women's cross country, the league office announced on Tuesday. Larrieu Smith, the head men's and women's cross country and track & field coach at Southwestern University, was one of 12 former runners to land on the prestigious list.
Larrieu Smith earned All-America honors at the 1974 AIAW Cross Country Championships, while competing for UCLA. This came after capturing outdoor titles in the 880, Mile and 2 Mile events at the '74 AIAW Track & Field Championships.
"It's a totally and unexpected, but truly great honor to be recognized with all of the others who were selected for the All-Century Team," Larrieu Smith said. "As an athlete, when you compete, you don't think about these kind of things. But later on in life, when you are recognized for your accomplishments, it is humbling and a great honor."
Continue reading at: southwesternpirates.com