Late-Blooming Gregorek Breaks 3:50 Barrier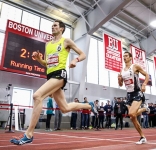 March 07, 2019
From a 4:15 HS Mile to sub-3:50 at age 27: "Coach Gags reached out and gave me an opportunity and ASICS was generous enough to sponsor me."
By Jeff Hollobaugh, Track & Field News
"I shocked myself pretty bad with that one," says Johnny Gregorek, who scared the indoor U.S. Mile record with his 3:49.98 to take second to Yomif Kejelcha's spectacular 3:47.01 world record Mile at Boston University on Sunday, March 3. "I knew I was ready to PR. The track is known to be fast and the race was going to be set up to be fast. I went in there with the mindset of racing and running as fast as I could. I just wanted to compete well against those guys. I wasn't really looking at the clock. "I just kept picking it up, picking it up, picking it up."
The 27-year-old journeyman Miler was hoping to nail a time under 3:53.00 to make the 2019 World Championships Q-standard: "That's the #1 thing I had in mind." He was stunned to read the clock afterward. Coached by Frank Gagliano since he left Oregon in '15, Gregorek says, "It just goes to show that anything can really happen if you trust your fitness and go for it."
Gregorek's road to the elite has been anything but fast. "I haven't ever been touted or praised as any sort of superstar," he admits. "I've had a lot more failures than I've had successes, a lot more bad races than I've had good ones."
From early on in his life, he knew his parents were into running. "There were always boxes of all these dusty uniforms that had 'USA' on them and all these running shoes all over the basement. I knew that they were good runners but it wasn't the most impressive thing to me when I was young. You've got to go out and run for yourself and see how hard it is.
"And then I ran a couple of races as a freshman in high school. 'I've just run 5-something in the Mile.' " And then he looked up his dad's time. "It was like, 'Oh wow! OK, 3:51. That's pretty quick for the old man.' "
Dad in this case is John Gregorek, 2-time Olympian who turned out marks including a 3:35.3 for 1500, 3:51.34 for the Mile, 8:18.45 steeple and 13:17.44 for the 5000. Mom could run too. Chris (nee Mullen) Gregorek also starred for Georgetown where she was runner-up in the AIAW Championships. She earned 5 U.S. Rankings at 800 (PR 2:00.06) and one at 1500, where her best was 4:08.02 (and 4:29.00 for the Mile). Says dad, "We never pushed any of our children to do anything, so if it was meant to be, it was going to be coming from them."
Continue reading at: trackandfieldnews.com
U.S. All-Time Mile Top 10 HERE.
Photo credit: Kevin Morris