Lawi Lalang Wins NCAA Indoor Titles in Mile and 3K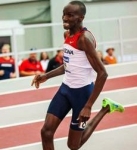 March 09, 2013
Lawi Lalang won two NCAA Indoor Championships in the same day, setting meet records in both races.
By Arizona Track and Field
FAYETTEVILLE, Ark. – The Arizona track and field teams concluded the indoor season on Saturday at the second day of the NCAA Indoor Championships. Each of the four Wildcats who competed on the day earned All-America honors, with one earning a pair of NCAA titles in the process...
...Junior Lawi Lalang won the NCAA title in the Mile with a time of 3:54.74, the second-fastest time of his career and a meet record. Previously, the fastest Mile at the NCAA Indoor Championships was 3:55.33, run by Kevin Sullivan of Michigan in 1995. Lalang is the first Wildcat in school history to claim an NCAA Indoor Championship in the men's Mile.
"I was surprised nobody went with me early on," Lalang said. "I said to myself, 'It doesn't seem I'm running fast, but no one is around.' With two laps it seemed I was going to take it, so I said, 'Let me just go for it.' The biggest thing for me to win was the Mile -- it's a fast race and it's good for me. It will help me prepare for the outdoor season."
Continue reading at: arizonawildcats.com