Leah O'Connor talks success, training and her last season racing as a Spartan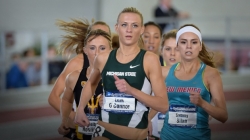 April 09, 2015
"My goal is the same as always: healthy, happy, fast. Except it's my last go around in a Michigan State uniform, so I am going to soak it all up more than ever."
By Giovanni Reyes, FloTrack
After a few Championship wins over the past 3 seasons - including a title and meet record at the 2015 NCAA Indoor Track & Field Championships in the Mile - we caught up with Michigan State's own Leah O' Connor as she gears up for her final outdoor season as a Spartan to talk about training, embarassing moments and what she has in store for this season and beyond.
What do you think is the main factor that has lead to your continued success season after season?
I truthfully can't give you just one thing; it's just not that simple. I think I'm surrounded by some of the greatest humans in the world at Michigan State. I am happy, healthy, and more excited about / in love with running than ever. I'm having a blast testing myself, but none of this has felt forced; I have a laundry list of people to thank for keeping me on the right path/grounded.
Take us through the Indoor Championship race and your stunning 4:27.18 Mile and meet record.
I was nervous, but also really pumped. When I know I'm ready for a big race I flip-flop between feeling like a kid on Christmas and feeling like I could just throw up a little.
You know you're about to put your body through something really uncomfortable and slightly painful, but you've sufficiently convinced your brain that it's going to be freaking fun. I guess that's the best I can describe the race day feeling?
Continue reading at: www.flotrack.org