Leah O'Connor has banner year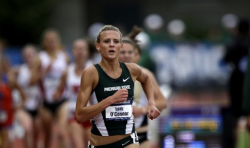 December 29, 2015
The NCAA Indoor Mile record holder and champion finished her time at Michigan State with 10 career conference championships, the most in school history.
Joseph Hayes, Times Herald
There were many challenges and obstacles, but Leah O'Connor overcame them all.
And when she looks back at the year 2015, it will likely bring a smile to her face.
It was the year that O'Connor took a big step forward in her running career. The 2010 Croswell-Lexington High School graduate enjoyed a successful senior year at Michigan State University. And because of her success, she will enter 2016 with even greater opportunities and expectations.
Continue reading at: thetimesherald.com