Leah O'Connor Staying on Track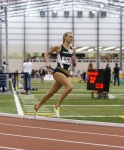 March 27, 2015
Senior Leah O'Connor has become one of the most decorated athletes in MSU history. But the runner, who most recently snagged the national NCAA indoor Mile title, has come a long way in the last five years.
By Ryan Squanda, The State News
There are a lot of "lasts" coming for MSU senior track star Leah O'Connor.
Whether it be last practices, last races or last classes, her days at MSU are numbered.
Her accomplishments are remarkable — 2014 outdoor 3000 meter steeplechase champion, 2014 cross country national champion, 2015 indoor national Mile title. The list goes on.
And as one of the most decorated athletes in MSU history heads into the last season of her college career, it's hard to imagine how, in the span of five years, she's gone from small town farm girl to a woman with a professional running career in the future. But amidst the trophies and medals and national championships, what many of her friends, family and coaches will tell you, is there's also Leah O'Connor, the person.
Always a runner
O'Connor was born into a family of runners in the small farm town of Croswell, Michigan. Population: 2,447.
Continue reading at: statenews.com